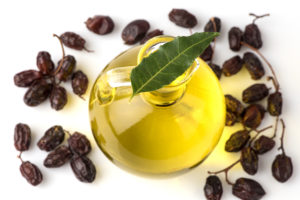 Cold pressed organic neem oil is made from the seeds of the neem tree native to India.
Consider replacing store-bought household bug sprays with an effective yet natural neem oil solution as a non-toxic repellent safe for children and pets!
Use on your indoor plants as well as outside on patio plants and in the garden. It will protect your plants from being eaten by making them unpalatable to insects. Add a few drops of dishwashing solution to a couple of tablespoons of neem oil in a standard size spray bottle 3/4 full of water and shake. Make sure to spray the underneath of leaves where pests may reside.
Spray where mosquitoes are seen and watch them disappear!
Add a few drops to carpet shampoo for flea control.
Spray mattresses to keep bed bugs away!
Add a couple of drops to the hand soap for anti-bacterial properties!
Note; Neem oil can solidify at lower temperatures. If this happens, place the container in a bowl of warm water.